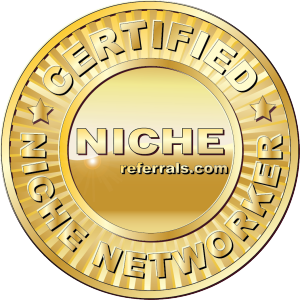 "Before working with Scott, I would ask to work with anybody who wanted a home loan with no real defined niche. Scott helped me define my niche and improve my elevator speeches, allowing me to build my business to a very productive and profitable first quarter. For assistance with defining your goals, finding your niche or managing your time, Scott is my go-to person." -Austen Smith, IBC Mortgage

"This class makes me money!" –JW Ware, American Note Warehouse
NICHE Referral is about connecting with your target market referral prospecting partners!
Who Needs a NICHE Referral Certification?
Sales Managers, Realtors, Financial Advisers, Sales Teams, Independent Outside-Sales Professionals, Entrepreneurs, Small Business Owners… and Introverts!
Word of mouth referrals close business 86% faster than any other form of advertising.  Take your mid-level and top producers from "good" to "great!"  Enroll them in NICHE Referrals local or national referral certification program created by Growth Dynamic's master networker / prospector, Scott Carley. The matrix of requirements and accountability in this program will help your team discover new skills and sharpen existing ones. Participants will learn how to build long-term referral relationships, create win-win strategic alliances, cultivate a professional circle of influence, multiply your revenue exponentially through shared business opportunities, and mine specific target markets.
Certified NICHE Referral Curriculum
Certification include:
The Attracting Power of Specialization – Defining Your NICHE
BizMatch – Defining Your Target Market
Five Must-Have Networking Tools
60 Second Sizzle – An Indisputable Head-Turning Introduction
Commanding Your Daily Routine – 10 Keys to Time Management
Networking EXPOSURE Goals
Am I Networking In the Right Place?
The Priority Policeman – Time Blocking Your Week
Networking an Event: An 8 Point Check List
Speed the Trust of Referral Relationships: Effective One-to-Ones
Connecting At ANY Event: How to Ace 11 Networking Situations
Trigger Points that Unlock Your Strategic Alliance
How do we deliver this priceless training? Let us count the ways…
LOCAL Training Option
Bi-Weekly meetings (2 hour sessions over a 3/6 month semester)
Bi-Weekly Group Coaching Calls
Reading assignments and conference calls
Interactive networking
Memorized presentations
Real-life construction of a working strategic alliance
Development of tier-one, tier-two and tier-three referral relationships
Supervised weekly networking
NATIONAL Training options
1/2, 1 or 2 Day Workshop onsite (14 modules)
Bi-Weekly Group Coaching Calls
Unlimited 6 month access to online audio training
Introduction to a local BNI Chapter
Reading assignments and Pod-cast
Interactive networking assignments
Networking exposure goal accountability
One on One individual Coaching
Weekly or bi-Weekly 60 minute teleconference
Tag-in accountability calls
Unlimited 6 month access to online audio training
Introduction to a local BNI Chapter
Reading assignments and Pod-cast
Networking exposure goal accountability
Go for one of two levels of certification: Referral Master (Level1) or Notable Networker (Level 2). Either level can take participants' skills to new heights!
Ready to turn your business "up to 11?" Then contact Growth Dynamic today for details and group pricing. Let our skilled trainers help you find your NICHE and mine it for all it's worth!