ALL TEAMS HAVE A SHELF LIFE
Circuit City, Blockbuster and Radio Shack failed when their team shelf life expired.  Today, corporate leadership are struggling with the loss of a competitive advantage over rivals. Success in the marketplace requires corporate teams work together now, more than ever to provide a fresh dynamic culture.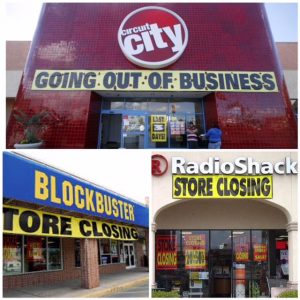 C-level leadership knows the highly competitive business world is a constant drain on the creative and cooperative energy of even the most successful team.
Circuit City, Block Buster and Radio Shack
They lost their innovation, teamwork and priority clarity.
 Key vision components failed.
 Teams lost their chemistry.
 Key people bailed because corporate leadership lost their shelf life.
 No more Amazing Advantage.
Without great team chemistry – you won't compete at a high-powered level.
Executives know peer-to-peer issues and unresolved conflicts can easily stall or sidetrack the best team. Before you realize the breakdown in teamwork, your team falls behind in trends and market interest. That prized "Amazing Advantage" vanishes from your team and production stalls.
The good news is – it's not your fault! This is actually the natural life-cycle of an amazing team. Teams have a shelf life. They have an "Amazing Advantage" expiration time stamp. Over the course of weeks, years or numbers of projects, good team members leave and green members step in. And you never know what the chemistry is until you put everyone on a project!
All remarkable and amazing teams require "Change Energy." When the proverbial production engine sputters it's a sign your team needs the "Change Energizer" – Scott Carley – to get your team back on track for the next level of amazing success! Following are three key elements to reviving your team with "Change Energy."
Bring Change Energy to your stalled or reorganizing teams by Casting Vision , Repairing Fractured Team Relationships and Opening a Tool-chest of simple but proven systems and processes to move them to rapid, methodical realization of their Goals.
3 High Voltage Retreats
– Half Day Power Boost

Dulled, burned out and unfocused teams plug into a Half Day ENERGIZED Power Boost and come out with an attitude adjustment, refocused and POWERED UP for productivity.  Carley will help you select the exact and perfect "Power Button" for your team!  The Change Energizer starts from the moment they walk in the door til they wrap up their "Energized Change Commitments".  Power Boost Successful!
– Full Day ENERGIZER-Charge                      Brainstorm with Scott

It's going to be a full, "Three Phase" day of Change Energy that supercharges Vision, Teamwork and Relationship Currency.  Again, Carley will help you select the exact and perfect Energizer Charge for your team.  He will connect his top 3 Energy sources into the group! Your team will have unusual clarity on where to spend their time to get immediate and measured results. Together, the team will cast an individual and collaborative "bucket-list" vision.  It's exciting to watch a man with a vision or a woman on a mission! C.arley will supercharge your fractured and stalled team into an Ocean's 11 award winning team with new, energized chemistry. And time permitting.. an offsite group activity!
– Two Day Epic Energy Infusion

If you are reorganizing an Executive Team or making a significant shift in your direction, the Two Day Epic Energy Infusion is the right choice.
Get ready for two days of massive and irreverent Change Energy! Your team will casts vision, focus their attention, get out of their comfort zones to energizes fractured teamwork. Carley will open a robust tool chest of priority management devices and get them working immediately. They will feel a confidence surge in vetted self identity that will light up their daily focus. Epic Energy Infusion energizes their commitment to short and long term goals and bring vitality to their Top 50 Relationship Currency.  There will be a fun offsite, surprise team activity!
Watch out… because your high performers are going to need a place to channel all this new energy!