Discover Your Target Market in Five Questions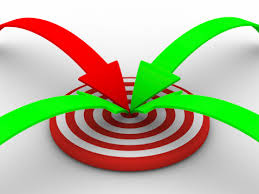 Why is it so important to identify a specific target market? Why would you need to spend the time and energy to narrow your focus and distinguish that best person to buy from you?
Because when you are clear about your ideal customer and you can articulate it to the market place, it will light up the referral magnet and attract buyers beyond your wildest dreams! Ideal, money-paying customers will seek you out as the company who can solve their problems!
FIVE SIMPLE QUESTIONS
1. What are your products and services…specifically?
What do you sell? Break it down into a list of specific products and services. It's time to "unbundle" your offerings. Here is where you want to create the "laundry list" of all the specific things you have expertise in providing.  Peel back the onion and break it into pieces.
A Realtor doesn't simply sell houses. They have Condos, Ranch Houses, Luxury Homes, Up-Grades, Custom Homes, Two Story Houses, Starter Homes, Duplexes, Investment Properties, Ranch Homes, Homes on Acreage, Rural Homes, Down-town Apartments etc.  As well..they have an 8 Point Listing System that includes staging, repairs, curb appeal, video tours, marketing, competitive bidding etc.
Business Attorney offers Buy-Sell Agreements, Purchasing Contracts, Selling Contracts, Document Revision, Non-Disclosure Agreements, Non-Compete Agreements, Litigation, Collections, Partnerships, LLC, Exit Strategies and other legal protections or services.
The point is… make a list of 20 "unbundled" specific products and services your company provides.
2. What specific problems do those products solve?
This is HUGE in turning on the referral magnet and getting the attention of your target market! After you have listed your products and services, now determine the specific pain or problem that product addresses. It usually will fall into categories of mental or physical. In other words it removes an anxiety or it fixes a broken, concrete problem like moving into a house.
This is the "nerve" you are looking for. This is WHY you are in business. You solve a problem. What is the problem you solve.. specifically?
3. Who most needs those products or services?
Once you get more well-defined about the problem you solve, your target market will become clearer. The Business Attorney is passionate about Partnership Agreements. He recognized that a couple of good buddies going into business together has potential for great success and financial wealth. But it is more likely to dissolve a good friendship over misunderstanding about the division of responsibility and assets. He said, she said has turned more than one great friendship into a nightmare of distrust.
So based on that, who is the Business Attorneys target market; Buddies or Friends starting a business project together.
4. Where do they live or cluster?
People cluster. Demographics tend to pull people of similar likes into groups and associations. Those can be professional or personal. Neighborhood or business corridors. Social groups or professional associations. The point is when you identify your most likely client, now you can start looking at where he or she hangs out. And now you know WHERE to market or network.
5. Which combination makes you the most revenue?
This is a numbers game. Get out your sales receipts, a calculator and your product list. Which products bring in the most revenue…per time spent? What offering do you have that make the most money? Where is your margin the highest?
James owns an HVAC company. For a long time, new construction was his target market. The demand was high and it was easy. New houses needed HVAC and it was a simple install. But the margin was low… real low. James started looking at another product he offered: HVAC Maintenance for homeowners with units 3 years or older. The margin was much higher! The revenue was much higher. In his first year, he added $100K to his bottom line and worked less!
Now he knows…..
WHAT specific products and services to market
WHICH specific problems he addresses
WHO is going to engage him
WHERE his best clients live
HOW much he is going to make.
Knowing your target market can have a huge impact on your business!
Defining Your NICHE Specialization
How would you like to meet bi-weekly with a group of small business owners who are covering topics like this AND becoming Certified Referral Networkers? Contact me for more information and local classes.
Scott Carley – Consultant