90 Day Wonder – Priority Management Coaching
Focus on what matters and get control of your distractions

90-Day Wonder is a special coaching curriculum designed by Scott Carley that puts members back into the driver's seat of their professional and personal life….in 90 Days. They'll learn the Power of Focus by getting unusual clarity on their primary, secondary and ongoing roles and responsibilities.  Scott includes how to prioritize, time block and stamp out distractions.  He will address the top 9 time thieves and how to arrest them.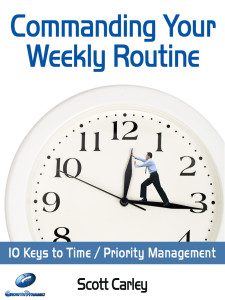 "I've enrolled in the 90 Day Wonder for the past business quarter and I have become a better businessman thanks to this powerful coaching. Scott has not only been a source of motivation but also a wealth of specific tactics to help my projects get done more effectively and efficiently. Our coaching sessions were aimed at improving my ability to not only get more out of my business day but how to communicate on a level that is more conducive to positive results. His insights into my work day were extremely beneficial into improving my work habits while also laying the groundwork for new and more rewarding work habits."          Greg S – Saber Security Systems
Key topics will include:
The Power of Focus
Clarity of roles, priorities and calendar dates
Create a productive weekly routine
Controlling the top 9 Distractions
7 Get Focused questions
Scott has a unique ability to cut through the "stuff" and get to the heart of productivity.  His fun, energetic and approachable mannerism puts the team at ease and creates a willingness to participate.  He will pull answers from members who have hit a mental block!  The weekly coaching call, questions and worksheets are integral as part of his success.
Value to Members
Members will walk away with a simple system to identify their static and fluid priorities, how to get focused on what matters most and say "No" to distractions.  They will have clarity on their roles and responsibilities, and specific tools that can be used to significantly reduce interruptions.  Productivity will increase noticeably!
Coaching Process
Lock in weekly call time (30-45 minutes)
Weekly coaching notes and worksheets
Set a 90 day expectation
90 day step by step coaching process
Professional Investment